Run! Run! Run!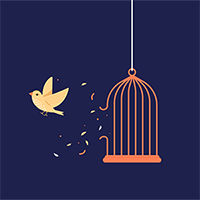 So they departed quickly from the tomb with fear and great joy, and ran to tell his disciples. (Matt. 28:8, English Standard Version)

Trembling but ecstatic they went out and fled from the tomb. (Mark. 16:8, New Living Translation)

...and returning from the tomb they told all these things to the eleven and to all the rest. (Luke 24:9, Complete Jewish Bible)
Can you imagine?
Can you imagine? They had gotten little sleep from the time Yeshua had been crucified; yet here is His tomb - empty just as he had said. He arose from the dead. Hallelujah! Slowly, slowly they plodded their way back to the disciples, keeping the news to themselves. Huh? No way! They ran! They ran back to the disciples (and anyone else who would listen) to share the wonderful news of a risen Messiah. He is alive. Hope. He gave hope to world that wonderful morning. The temple curtain was torn in two, opening the Holy of Holies to everyone (Jew and Gentile alike) to enter and worship.
Can you imagine? Apparently, most church parishioners cannot. I recently heard people complaining that their 8 a.m. service cannot grow because it is too early for people to come. What? How misinformed the church goers are as to how the Church (of God Almighty) grows. Church times and types of worship services, aesthetics, parking lots, etc., (fill in the excuse) do not "grow" the church. It is through witnessing, sharing the Gospel, and invitation that the church increases.
Please do not get me wrong here, I would not be enticed to go to an unkempt building or shoddy parking lot, but these things are not what draws people to Yeshua. The disciple John said that if He is lifted up, all men will be drawn to Him (Jn. 12:32). By the way, that means all colors of mankind. In a world of hate and godlessness, evangelism must be at the top of the budget for every church and in the heart of every believer.
We are not talking about a country club. We are talking about the church, which Yeshua the Messiah himself established. Steve and I have attended many 8 a.m. services around the United States and abroad, as well as a meeting in Wisconsin (cold) that had its early service at 7:30 a.m. in full attendance. It is not about getting to sleep in, it is about accommodating those who work. I know people in my home church who must go straight to work after the service. Are we so complacent in our churches that we do not see the needs of others? We had a meeting in Saginaw, Michigan, where the church had a Saturday p.m. service, three Sunday services, and then a Monday p.m. service! Now that was dedication to the community for the sake of Christ.
There is a movement in our world to get spiritual. Younger people are migrating to "spiritual" meetings. Harry Styles, a popular singer today, was asked if he believes in God? "No", he said, "but I am spiritual". That is sadly the norm for our young people. And we need to be careful of being sucked into that philosophy. Can you imagine? Being "spiritual" and going to hell? Who is going to tell them? We have no excuses, that is, unless we ourselves are just spiritual or religious and have never had a time of repentance and acceptance of Yeshua.
Stop focusing on church hours and instead on more souls brought to the Lord. Organize a weekly outreach in your church or Sunday Bible class or small group. It could be the culmination of lessons on soul winning.
Nowhere in the Bible do I read "If you build it, they will come." But, I do read: "And he said to them, 'Go into all the world and proclaim the gospel to the whole creation'" (Mk. 16:15, ESV); "Go therefore and make disciples of all nations..." (Matt. 28:19, ESV); "...and that repentance for the forgiveness of sins should be proclaimed in his name to all nations, beginning from Jerusalem" (Lk. 24:47, ESV); and "Look carefully then how you walk, not as unwise but as wise, making the best use of the time, because the days are evil. Therefore, do not be foolish, but understand what the will of the Lord is." (Eph. 5:15-17, ESV).
The Holy Spirit works in the hearts of men (and women), but you are a vessel that God can use to bring others to Him. Luke 14:23 (ESV) says "And the master said to the servant, 'Go out to the highways and hedges and compel people to come in, that my house may be filled.'" A parable that is teaching the very thing we are writing about today.
Not everyone will hear. But that is not your business; it is God's. Some sow and others reap. For instance, here is a letter from a lady I witnessed to. When I met her, her son met me and another lady at the door. He told me that his mom was asleep in the bathtub. My friend stayed with the boy (a three year old), and I went to find his mom. She was alive, but in the tub passed out. We helped her to sober up enough to care for her son until her husband came home. I told her about our loving, forgiving, healing Savior. She listened with interest and then said she just was not into God. We prayed for her and left. I returned and spent some time with her, but she wanted no part of the Savior. Sadly, I did not see her again. Five years later we left the east coast and moved to Washington state to plant a church. Interestingly and surprisingly, I received the following letter:
Dearest Nancy,
I am not sure you'll remember me, but I have never forgotten you. My name is __. I used to live at __ and own a pale yellow 1970's Volkswagen bug. I am the half Japanese/Italian girl, remember? One of my friends was a very tall blonde haired beautiful young girl named __. I met you through an outreach program called (I think) "let's be friends", though I never personally attended. Now do you remember?
How much I hope so. I have wanted so much just to thank you for planting that most precious seed...I am saved and reborn now. I was home earlier in the year and called the church, hoping we could have lunch together. That is where I got your address. I am happy the Lord has given your husband a church to pastor, and I pray the Lord will bless his ministry. I was disappointed that I did not see you though. I want so much to share my testimony in person!
Without going into too much detail of my road to Damascus, I am happy to say it has been a wonderful two years (come the latter part of February 1987, God willing). I was completely delivered from my drug abuse at my conversion, and have stayed that way! I have had highs and lows, but I cling to the master...I have never been happier in my life.
It all started back when we spent an afternoon talking together. Your personal witness really touched my heart. I know that what you had was real...not so much in words but in actions. I never understood those actions. So, I want to thank you for being such an obedient child of God.
I will have to close this now. If you would like to hear from me again, please let me know. I love you very much. God bless you and yours.
Love in Christ, ___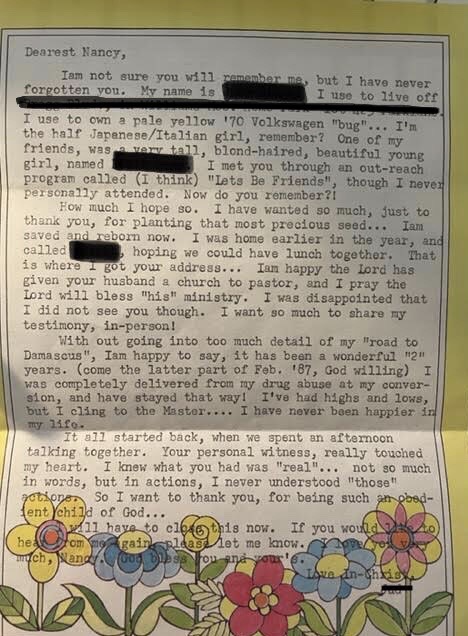 JUST TELL SOMONE WHAT YESHUA HAS DONE FOR YOU. Our beloved friend Pastor Matt Gunia, while pastoring in Chicago, invited me to speak twice (two different churches) on evangelism. Each meeting was glorious. The first meeting ended with the entire group going in pairs door-to-door in the church neighborhood. We would announce at each door that we were from the church and would ask if there was anything we could pray for on their behalf. When everyone returned after an hour, the stories were wonderful! At the first door of one couple, a man said he had cancer and asked the ladies to pray for him and his family. Another homeowner was a member of the church we represented but had stopped attending. She was so taken with the gesture, that she asked prayer for consistency and started coming again. At the second church, a pastor and his wife attended. He knew the need to share the Gospel message with the lost and used my talk to help his congregation with this.
Many want to share the good news, but just do not know how. Write or call me, and I will help or will find someone in your area who can. Steve and I both have taught seminars on evangelism; call us if you are interested in having us in your church, small group, or Bible study. We can Zoom if that would be best for your group. Steve has written a book called Win-Some; we would love to send you a copy as a PDF.
On a personal note, I want you all to know how I love hearing from you. I will not share your letters unless you ok it. But I do pray over them and for you personally. Please pray for us as well.
Love from my heart,
nanC
P.S. Let's love each other and be kind, and no drama. I heard a pastor say recently: "Drama can always be traced back to an unwise decision." We must be on guard daily. Love one another as Christ loves you.
Nancy Cohen is the Director of Women's Ministries at Apple of His Eye
This email address is being protected from spambots. You need JavaScript enabled to view it.
Subscribe to Our Newsletter
Download the Print Version