Live the Dash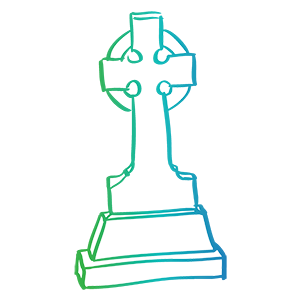 When I lived in Paris, I was in the 14th arrondissement (division) of the city. I lived approximately four city blocks from the Montparnasse cemetery. This cemetery is the second largest in Paris and consists of 47 acres. It almost had a park-like atmosphere and hundreds of people walked through the cemetery daily--including me...
But now in Christ Jesus you who once were far off have been brought near by the blood of Christ. (Eph. 2:13, ESV)
For we are his workmanship, created in Christ Jesus for good works. (Eph. 2:10, ESV)
For as the body without the spirit is dead, so faith without works is dead also. (James 2:26, KJV)
...The pathway through the middle of this cemetery took me close to my apartment from a metro station I used. Of course, I noticed the many headstones and they were incredibly interesting. Also interesting, and irritating, was the fact that all the Jewish people were buried on the outer edges of the cemetery -- typically European.
Headstones around the world always give the name of the deceased, as well as the date of birth and death of the departed, separated by a dash. A man wrote a poem about that dash, and it really moved me. He asked: How are you living the dash? After all, the substance of each person while alive is contained in that dash! That dash represents our quality of life, our interactions, and decisions (right or wrong), our joys, sadness, anger, disappointments, employment, schooling, etc. You get the picture.
Only one life, twill soon be past.
Only what's done for Christ will last.
I've used that little ditty before, but it's appropriate. The above-shared verses are just a few of the many verses God has given us to follow Him in good works. Yeshua himself was an example of works and kindness. James 2: 26 is an especially favorite one of mine: "For as the body without the spirit is dead, so faith without works is dead also." James is so practical in his teachings. When I read this verse, it is really obvious that faith without works is dead. It is like a woman who has had a child and then neglects it. She is still a mother, but she has not taken the responsibility of caring, nurturing, teaching, etc. It is as if she were dead. Yeshua tells us "Let your light so shine before men that they may see your good works and glorify your Father in heaven" (Mat. 5:16, KJV). In an angry, dark world, be the light. You may be the only gospel people ever see or know.
It is not enough that we share our faith, we need to live our faith. A Christian leader, when he found out I had worked as a reporter in Israel, called me a puke! He later apologized, but his quick words revealed his heart. If he treated me like that, how does he daily regard the world and represent the one who died for him? Once Steve and I were inviting the neighborhood to visit the local church, going door to door, and witnessing as the opportunity arose. We went with a group and had a driver. On our return to the church, the driver began to gossip about a lady in the congregation who was also out with us, but in another car. He totally quenched the Holy Spirit in my heart and broke the sweet atmosphere with the rest of us. I was saddened to think that he represented so many in the church body today who represent Yeshua on a part-time basis. We are not to be Sunday-only believers. Those of us who are believers are implored by God almighty to represent Him daily, hour by hour, minute by minute.
Invent ways to share the Word through your example. Pay for someone's groceries anonymously. I often see shoppers who seem to be financially in need. You do not need to get attention and embarrass the recipient by being obvious. Rake your neighbors' leaves or mow their lawns when they are unable. Visit neighbors who are shut in. There is a plethora of ideas in which you can engage. Serve in the nursery even if you do not have children there. You get the idea. Your children and grandchildren need to see your light also. I have had a zoom Bible study with two of my granddaughters, and Steve had a monthly lunch date with one of our grandsons when he lived near. These are spiritual growth times you will never regret nor have another opportunity for. We make it a habit to overtip our servers (when we are able), and we almost always ask how we can pray for them. We treat them with dignity and kindness. One of my sons, when he was in college, worked at a Cracker Barrel. He told me that his worse customers were preachers and church people on Sundays. They never tipped and were consistently rude or demanding. The other servers knew my son was a believer and studying for the pastorate, so they would beg him to take those tables. What a horrible example to a lost and dying world.
James tells us "To him who knoweth to do good and doeth it not, to him it is a sin" (James 4:17, KJV).
I would love to hear of some of your experiences as you have shared the love of Yeshua either in word or lifestyle.
God's Blessings at this precious time of the year. We are counting the days to Passover. Wish you could join us!
Love from my heart,
nanC
Nancy Cohen is the Director of Women's Ministries at Apple of His Eye
This email address is being protected from spambots. You need JavaScript enabled to view it.
Subscribe to Our Newsletter
Download Our Latest Newsletter